Last Friends
will be airing soon. Asami's character has been released. She'll be playing
Takigawa Eri.
It'll start airing on April 10, 2008. It's a Thursday night show, time it will be aired at 10 p.m. Sorry I don't have any pictures of the drama or anything else. Just that little bit of information and I bet you guys already knew that. XDDD
Anyways I brought you other pictures of Asami! Yay!!! =D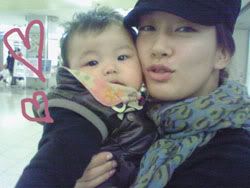 The baby, I believe, is a friend's baby. A childhood friend. She mentions attending a wedding on her website thing. I think that's what she said anyways. XDDD I'm trying to translate it and I'll post the translation here. So yeah. But the baby does look like her. Don't you all agree?
Ah I found the commercial for Last Friends on Youtube! Here it is:
Current Mood:
chipper